Lobby Design: 5 Elements to Include
Whether it's in a corporate headquarters or a doctor's waiting room, a university atrium or a childcare center, lobbies should be welcoming, functional, and clearly communicate how to move around the space. A lobby is an organization's first chance to make an impact or impression on a visitor. For any building type or purpose lobby design should include five foundational elements.
For Meijer, we dug deep into the client's archives to develop graphics based on old window advertisements. Look at the price of bread!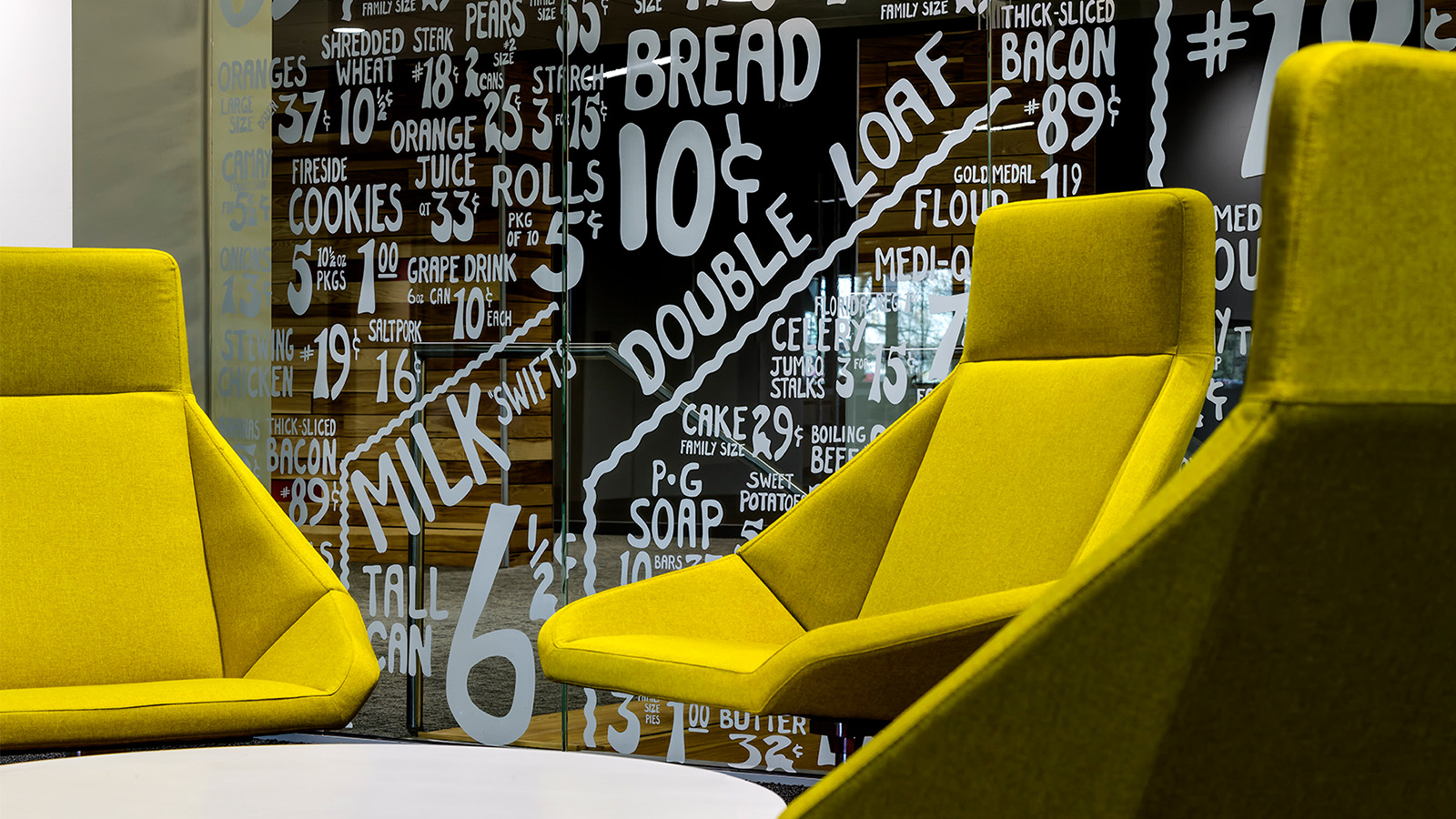 At Gordon Food Service, a visitor experiences subtle hints of the company's brand in its lobby through color, graphics, and a history wall. Visitors also catch a glimpse of the demonstration/training kitchen, located right off the lobby, which organically flows into flexible space that can be used for large group training or conferences.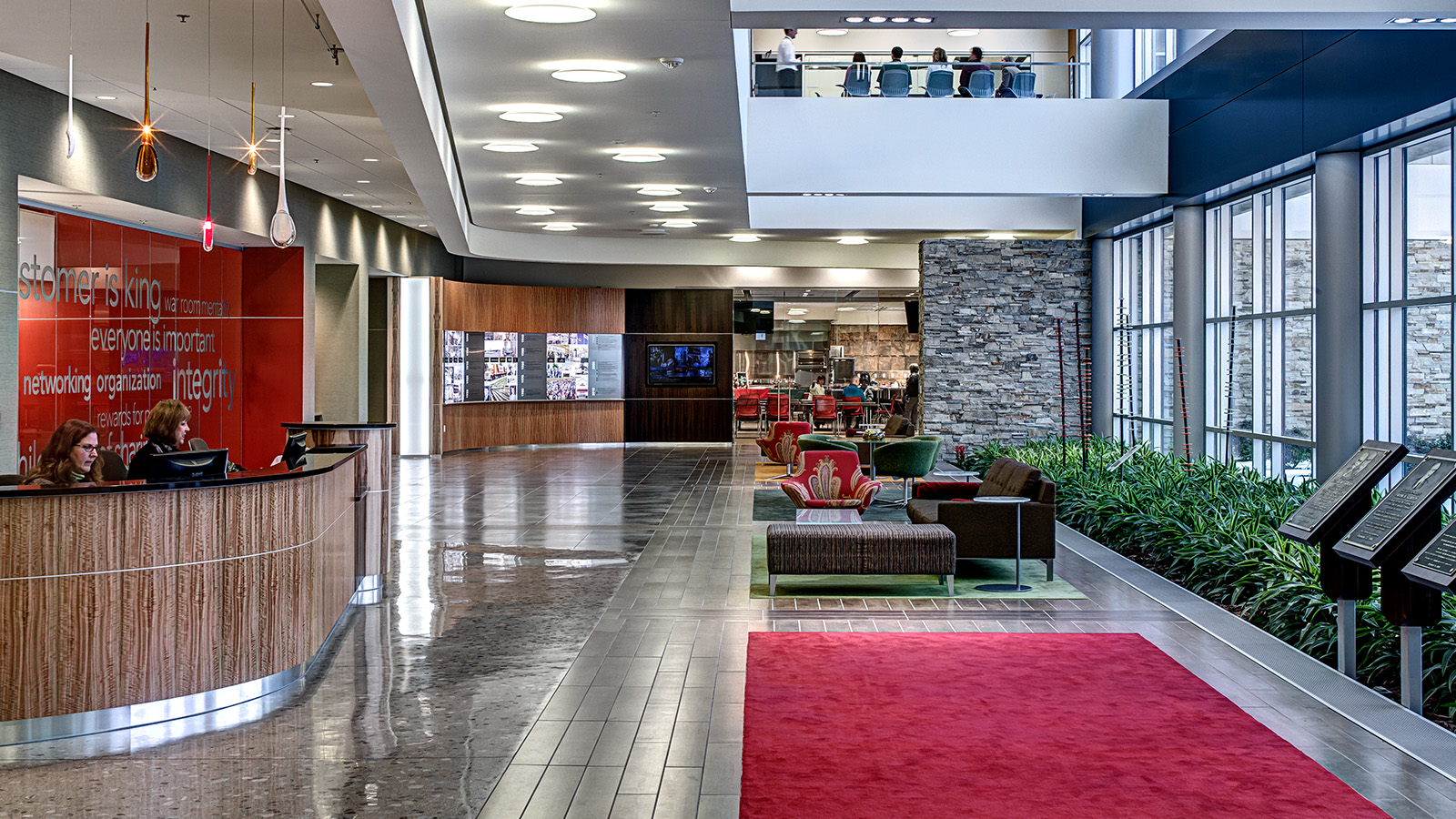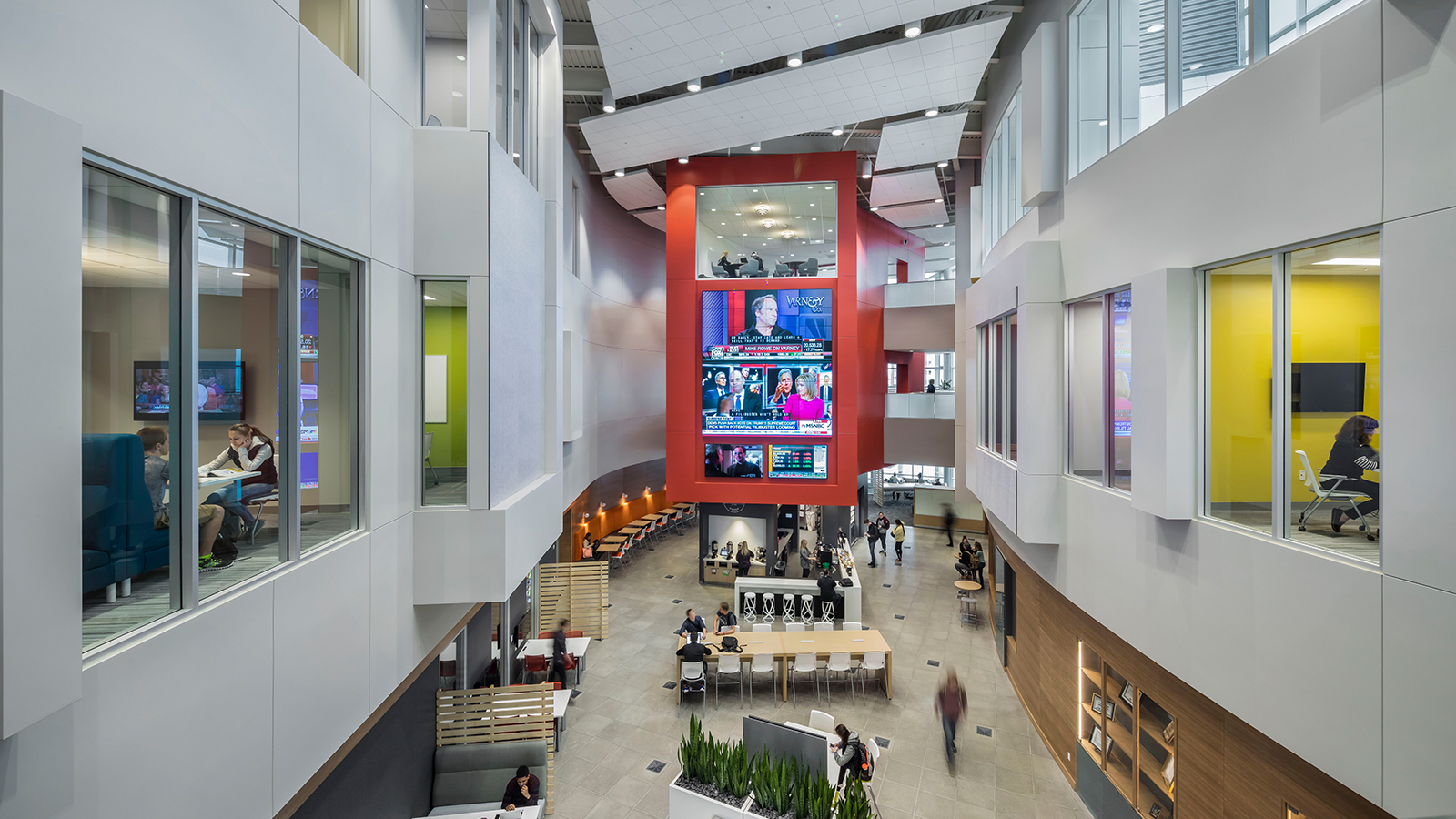 MiKids Pediatrics' vision was to create a unique and memorable patient and family experience that supported the physician group's brand. The iconic nature-themed environment centers around the notion of a dense "forest" containing registration and nurse stations. Possessing both beauty and function, the center hub captures a playful tree theme. The color palette, derived from the client's logo, is carried throughout the space with memorable furniture, organic patterns in the counters, and the appearance of green moss in the carpet.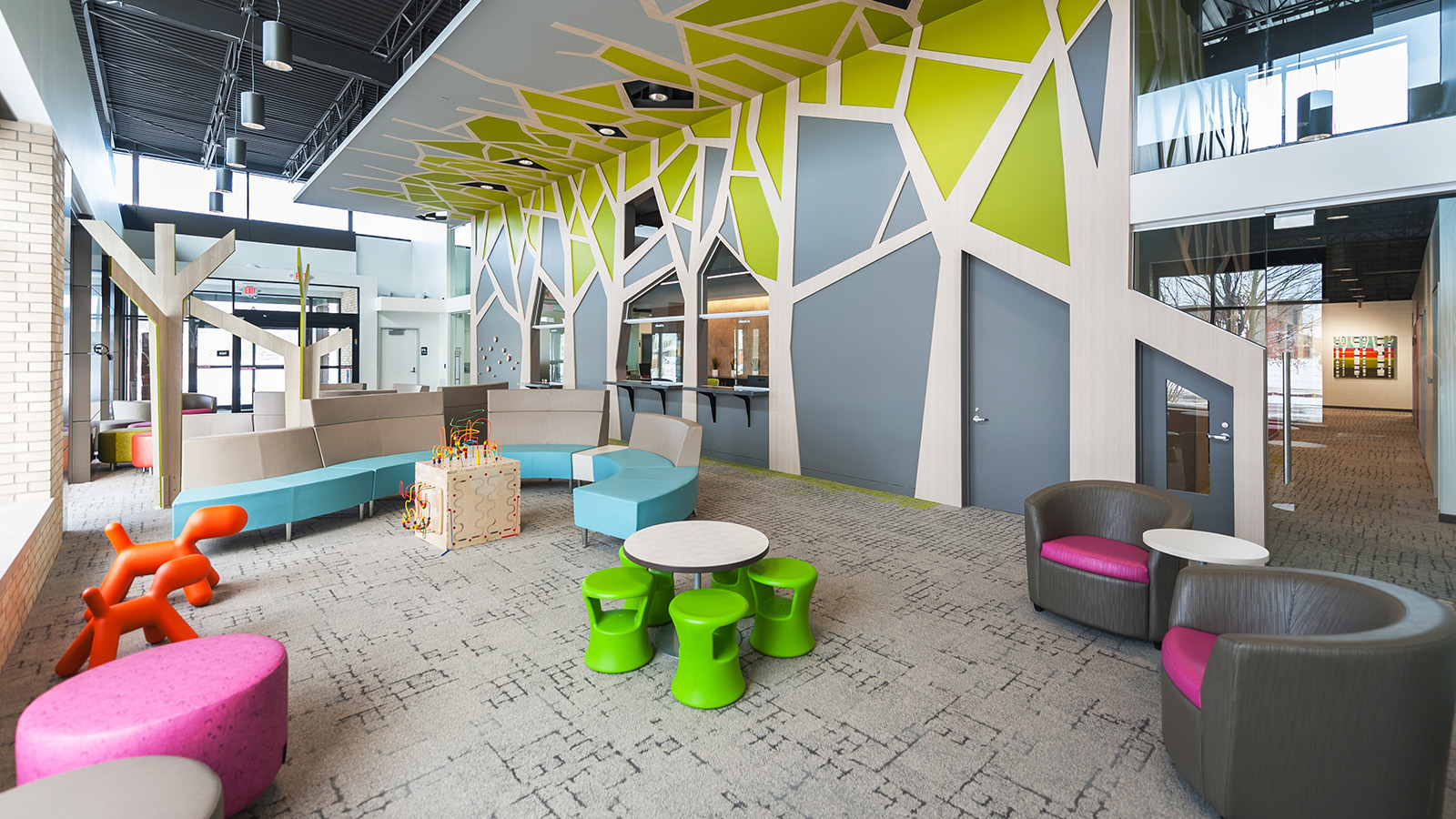 Bold simplicity and confidence are expressed upon entry into ADAC Automotive's Corporate Headquarters Building. Visitors have immediate views to the natural setting outside in these first few steps into the lobby. The focus remains on people, with a glimpse of the corporate café below the large understated ADAC logo.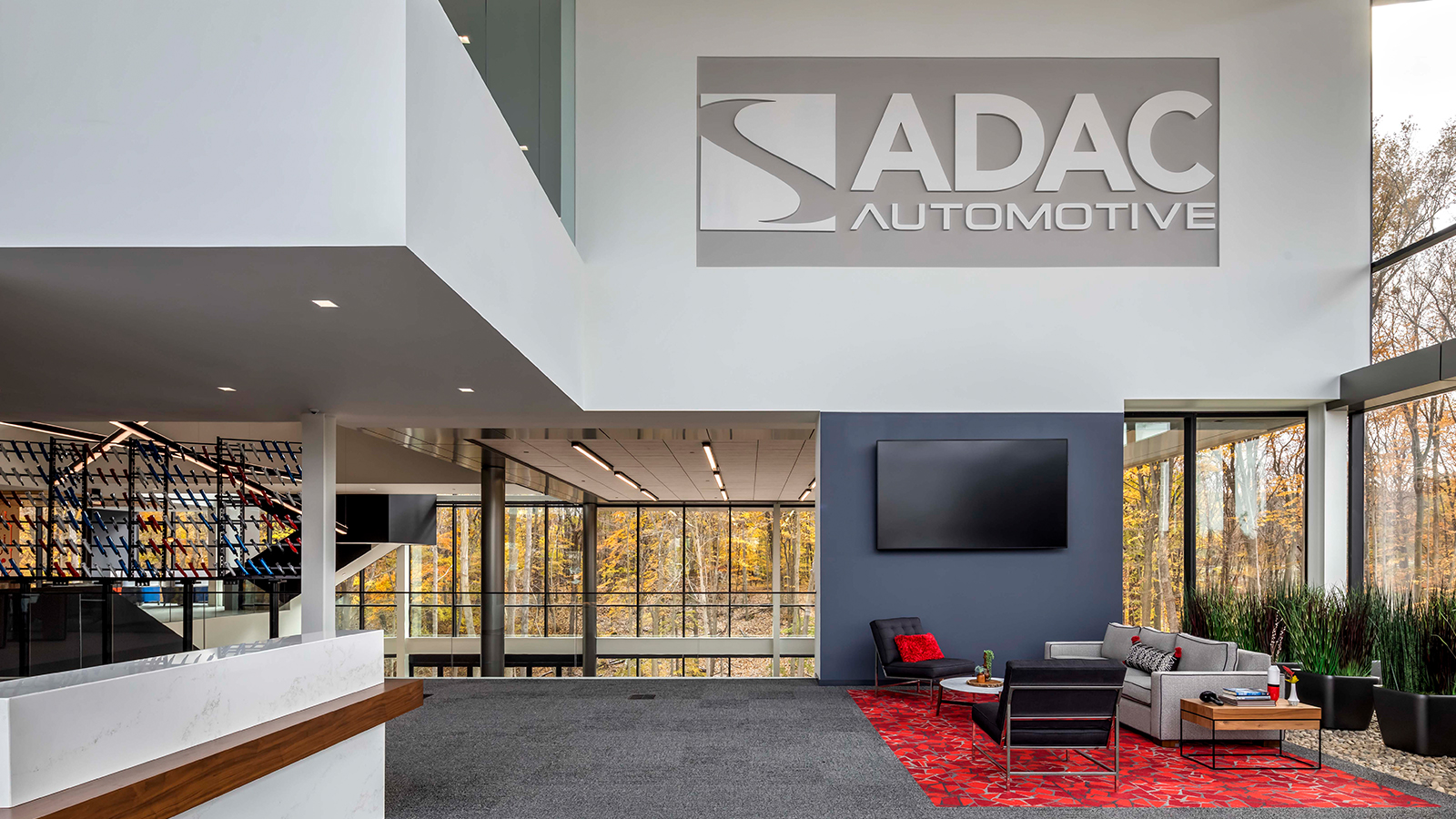 Wayfinding and Visual Connectivity 
The safety and security of the children, parents, and teachers at The Eddy, Whirlpool's Childcare Center, greatly influenced the lobby design and includes a series of security checkpoints, both physical and digital. A sequence of architectural compressions provides control points throughout the space without detracting from the lobby's welcoming nature. The design uses ample visual transparency, both into and in-between spaces, to promote a watchful community of users.