Soaring Towards Innovation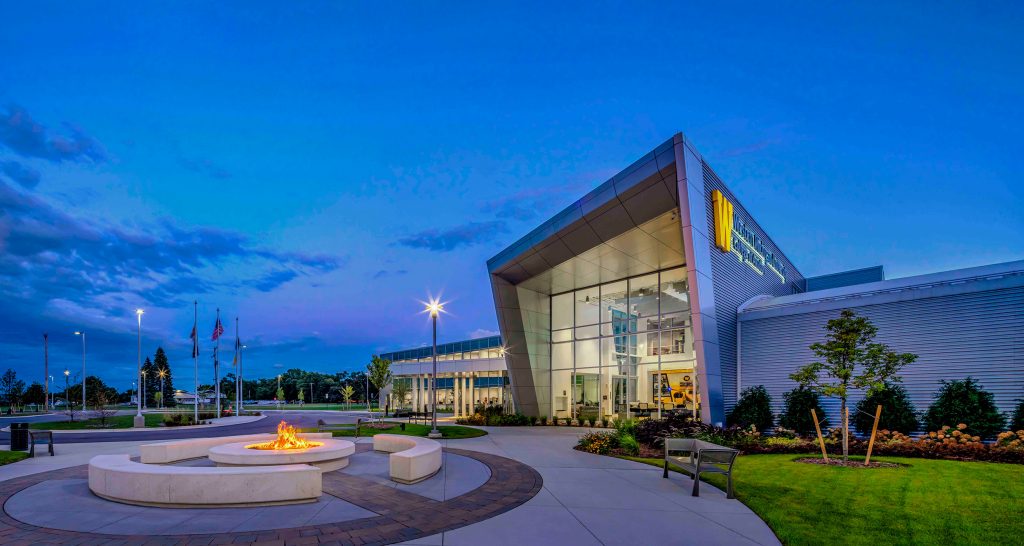 The WMU College of Aviation (CoA) renovation and expansion project created spaces that facilitate its growing enrollment, which is fueled by predicted job demand in key aviation fields. The CoA consistently ranks as one of the nation's top three collegiate aviation programs. The renovation and expansion project allowed the program to consolidate two remote locations into one campus, grow four classrooms to 11 classrooms, increase six pilot briefing rooms to 25 rooms, and add four flight simulators.
Early group visioning and discovery sessions uncovered aspirations and challenges, which were chronicled to guide the design process and establish measures of success. These included noting deficiencies in life safety, critically inflexible programming resulting from aging facilities, and a shortage of communication of the vast expertise and exceptional content of the WMU aviation programs.
Committed to being a national leader in growing learning communities that are more sustainable and environmentally sensitive, WMU drove critical change through a LEED initiative for the College of Aviation. Eventually recognized by the USGBC with a LEED Silver Certification, in addition to an American Institute of Architects (AIA) Grand Rapids Building Award and Sustainability Award, the project is a testament to the high level of performance and thoughtful planning that the client, designers, and contractors exercised throughout the course of the project.
CABIN, CONCOURSE & TERMINAL SPACES
The newly renovated and expanded facility greatly improves the quality of instruction and research facilities, provides connected accessibility, and has advanced technologies that make the CoA a leader in aviation education. New classrooms and laboratories support program goals and provide an atmosphere reinforcing aviation-focused learning. Starting with only four classrooms in its existing facilities, the CoA now includes 11 high-tech, flexible classrooms. Planning for the future through programming and design, WMU looks forward to continued growth, accommodating up to 2500 students (doubling the current student population).
A dynamic exterior entry envelope, expressing the inherent motion in aviation, includes choreographed instances of transparency to the interior environments. Deep overhangs and wing-inspired canopies provide shelter and sun control while expressing iconic forms found in aeronautics. Within the CoA, a central student terminal becomes the hub of activity and movement between core program areas, including elements of hospitality, rest, collaboration, and connectivity for aviation students. Student well-being is the focus in these areas, and a sense of campus, previously absent, has resulted from this new place within the CoA.
Resiliency, permanence, and movement are themes continued within the interior commons of the CoA, mimicking today's modern airports. Expansive views of the ramp and greater airport horizon beyond provide students with constant visual and mental connectivity to bright futures and careers ahead. Uplifting spatial volumes, colors, and textures, promote the WMU College of Aviation brand with the mission of being the best in the world in providing a focused, professionally inspired aviation education.
"The renovation and expansion of the Aviation Education Center was incredibly important because it finally allowed our facilities to catch up with the quality of our programs. Since perception is often regarded as reality, it was important for our new building to reflect the quality that the Western Michigan University College of Aviation has become known for world-wide. Since its opening, it is common for our industry partners to refer to the building as, the best aviation facility in the country!"
Dave Powell, WMU COA Dean Emeritus